Flensburg Photos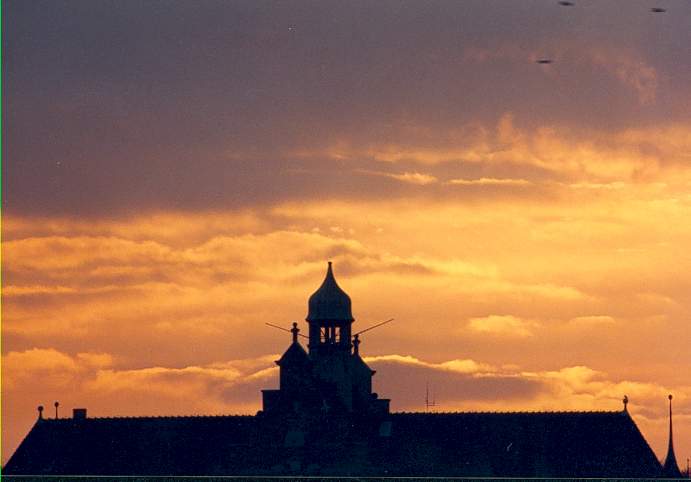 1999. Der Museumsberg auf der westlichen Hühe oberhalb der Innenstadt. Fotografiert von der Ostseite aus (Brixstr.)
Museum Hill above the city centre.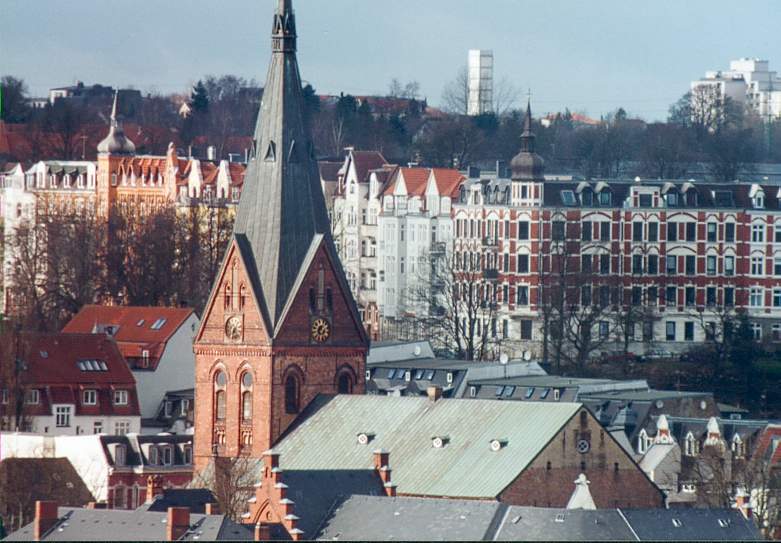 2000. Die Marienkirche, fotografiert mit 500 mm Objektiv aus meiner jetzigen Wohnung in der Clädenstraße. Dahinter der Burgfried und am Horizont der Feuerwehrturm von Harrislee. Rechts die Harrisleer Hochhäuser an der B200.
St.Mary's Church, taken with 500mm lense from my flat in Clädenstrasse. Behind it Burgfried and in the background the Fire Police Tower and some blocks of the suburb Harrislee.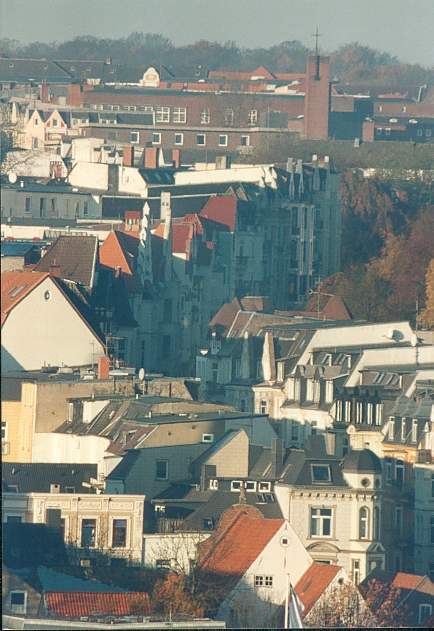 1999. Die Toosbüystraße, die am Westufer der Förde hochgeht. Ca 1900 erbaut. Auch mit großem Objektiv, so daß der Knick in der Mitte der Straße extrem erscheint.
Toosbuy Street on the west side, built around 1900.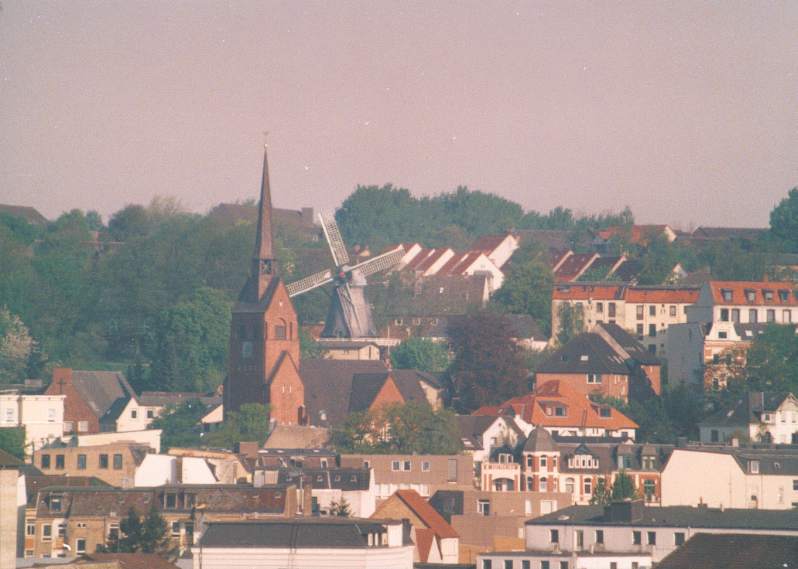 2001. Petrikirche und Windmühle im Stadtteil Neustadt. Die Mühle arbeitet nicht mehr und dient als Museum.
2001. St.Peter's Church and the windmill in Flensburg-Neustadt. The mill is out of use is now a museum.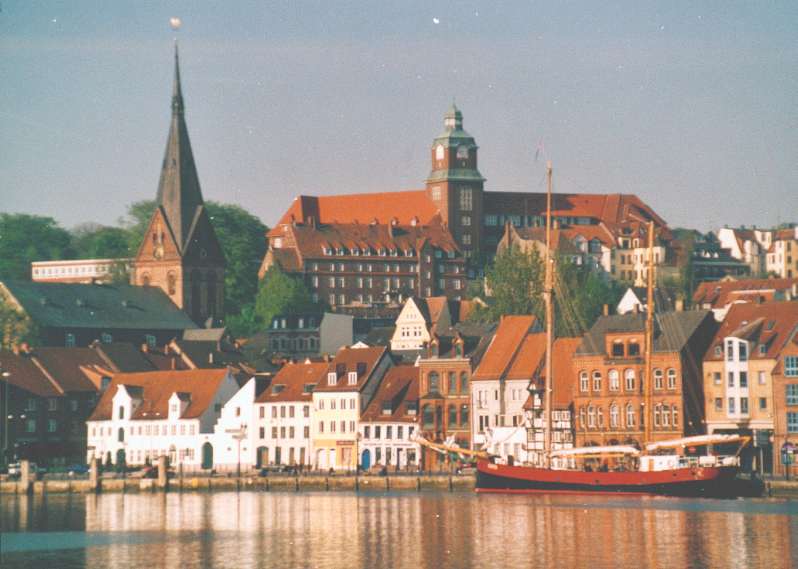 2001. Marienkirche und Altes Gymnasium oberhalb vom Hafen.
2001. St.Mary's Church and the Old Gymnasium above the harbour.
Sommer 2001. Das Grisou. Ein historisches Foto mittlerweile, weil diese nette Kneipe, die sich seit den 80ern außen und innen nicht verändert hat, im Herbst 2001 in die den Holmhof 45 umgezogen ist. Regelmäßig Kult-Parties.
2001. The Grisou. Already a historic photo. Because the nice pub that hadn't changed since the 80ies now moved into the backyard of Holm 45 in autumn 2001. Regular parties with cool, crazy music.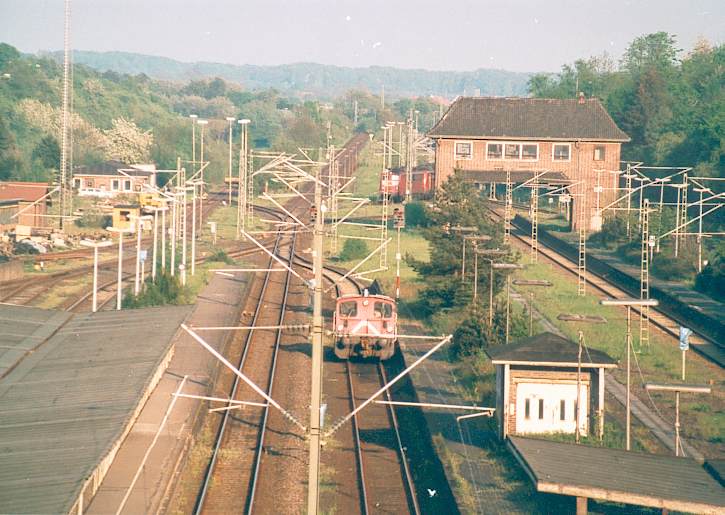 2001. Der Bahnhof und die Gleise nach Kiel. Geknippst auf der Eisenbahnbrücke Schleswiger Straße.
2001. The railway station and the tracks towards Kiel. Photo taken from the railway bridge.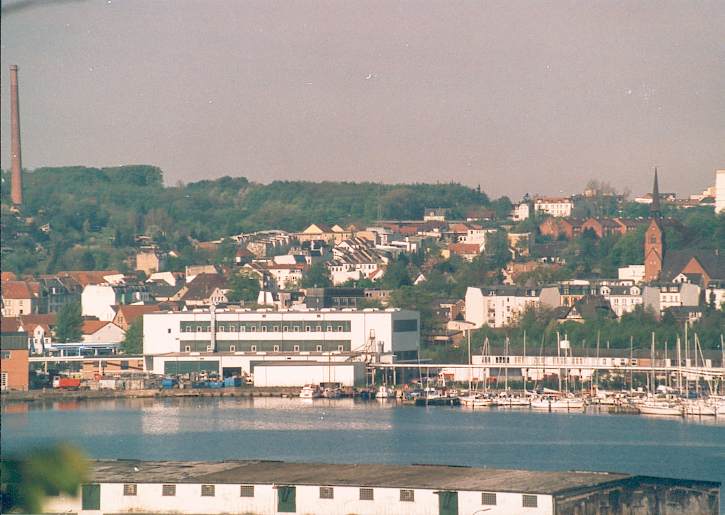 2001. Die Neustadt. Die Straße, die hochgeht, ist die Harrisleer Straße. Alte Arbeitersiedlung. Industrie am Hafen.
2001. The Neustadt neighbourhood. Used to be home for many working people. Industry down at the harbour.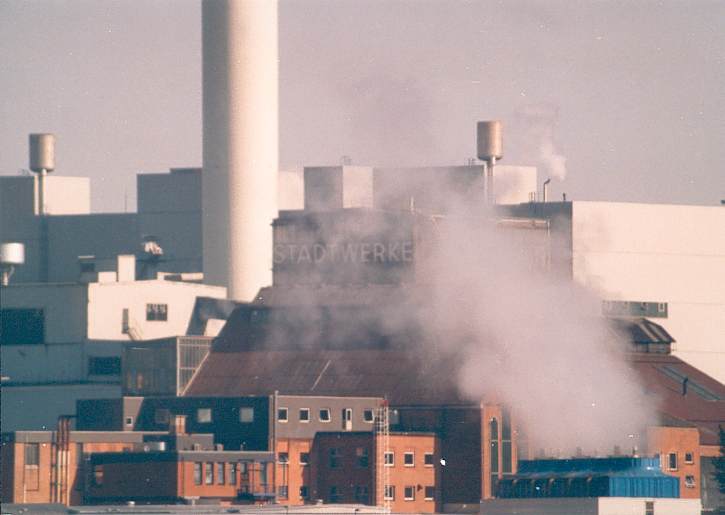 2001. Stadtwerke (electricity and district heating) in the Neustadt.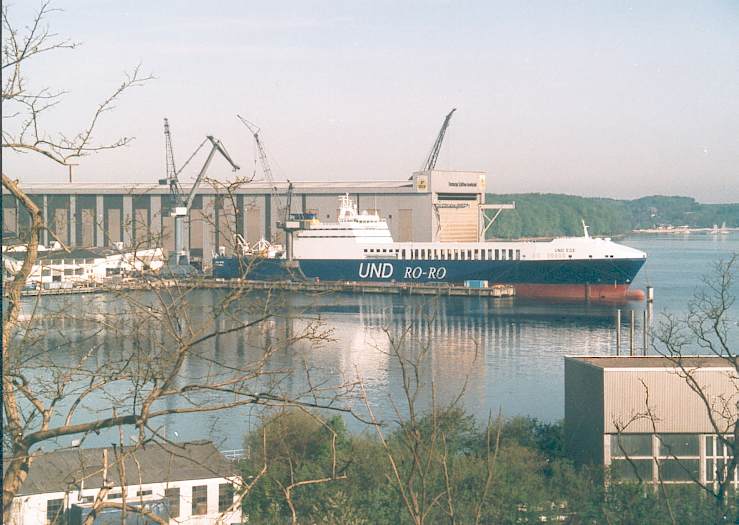 2001. Die Werft (Flensburger Schiffbau Gesellschaft).
The ship yard.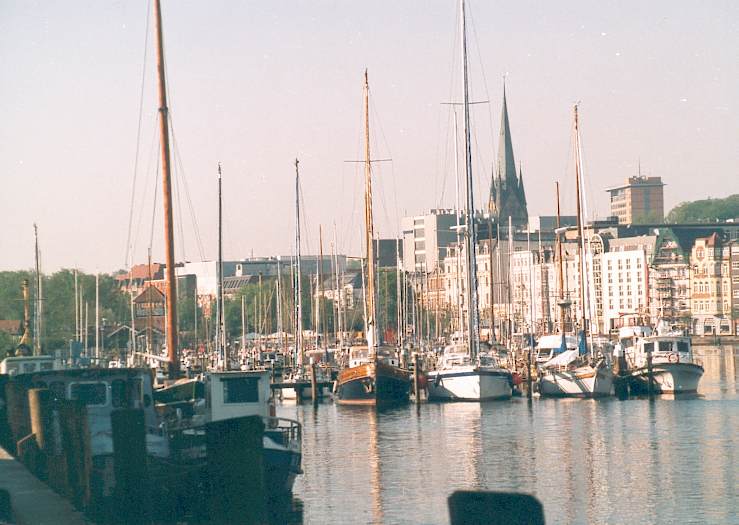 2001. Hafen und Nikolaikirche.
Harbour and St.Nicola's Church.
See also: Flensburg Walk A virtual photo walk with 500 pictures
---
Questions? Corrections? Ideas? Comments? PeerAxel@aol.com